COMFY BRAZIER
Breathe some warmth into your surroundings!
Our Comfy Brazier brings light and the romance of an open fire to your garden in no time at all, because it is mobile and easy to use. It can also be used for grilling and frying.
The Comfy Brazier is permanently heat-resistant, stores heat for a very long time and does not age. After all, it is made from a very special material, CeraFlam®, our unique ceramic, which is only
available from us.
Handmade in Germany for you by Denk.
Luxurious light & warmth
Give the people who matter to you the gift of light and warmth. Both luxurious and easy to use, the Comfy Brazier is the perfect gift. A precious accessory that is guaranteed to make someone's eyes light up.
Jutta Denk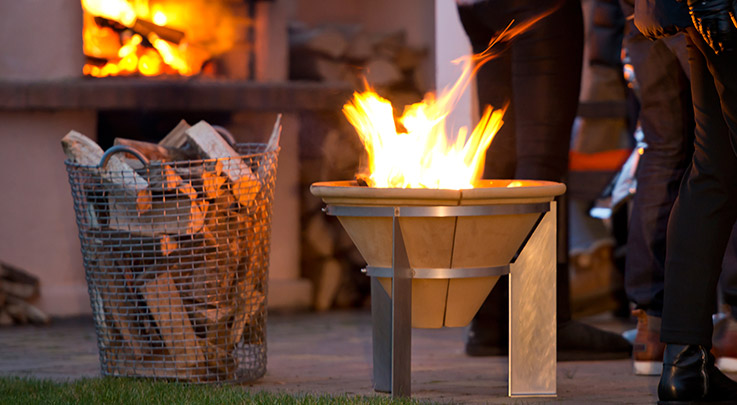 COMFY BRAZIER – FIRE, LIGHT & PLENTY OF WARMTH
Fire has been part of our civilisation for thousands of years. We often forget its beneficial effect – time flies by so quickly that we hardly seem to have a chance to draw breath.
But as we sit by the glowing embers with good friends or that special someone and watch the flames as they dance, it comes straight back to us – that feeling of security and liveliness that has always given us energy and confidence.
Enjoy this feeling in your garden, on your balcony or on your patio with the Comfy Brazier.
And if the good company and lively discussions make you hungry? Then just put on the matching pan or grill and prepare delicious food for your guests.
CONSTRUCTION
The Comfy Brazier is ready for use in a minute. Simply position the frame in your chosen location and put in the ceramic pieces one after the other. Shake gently and they will automatically slide into the right position. If you need to, you can easily adjust the rings of the frame using the screw fastening.
All you need to do now is put in the base cover!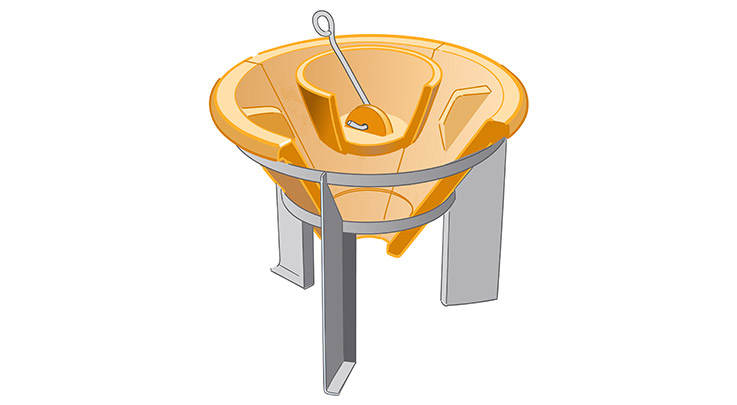 Our unique fire ceramic
Special quality comes from a special material. That is why we make the Comfy Brazier from CeraFlam®, our trademark Denk fire ceramic. There is probably no other ceramic material that has such exceptional properties – the perfect combination of natural characteristics and findings from space exploration. CeraFlam® is permanently heat-resistant, stores around 3 times as much heat as steel and does not age. It is no wonder that the recipe is our closely guarded secret and that the Comfy Braziers are exclusively handmade in Germany.
Fabian Denk


CLEANING
The ashes are easy to empty after use. Put a pail or tub under the Comfy Brazier. Carefully lift the base cover with the poker supplied. The ashes will fall out of the bottom. Please remember that embers can remain in the ashes for up to 24 hours. Wood ashes make excellent fertilizer.
Particles may settle on the surface of the rust-proof, stainless steel frame as a result of air pollution or other factors. This can also lead to volatile rust. These surface impurities are easy to remove with a fine sanding sponge.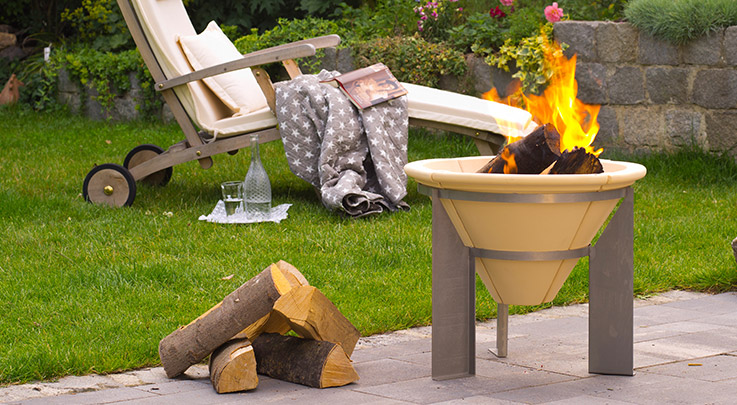 FUEL
You can burn any type of wood in the Comfy Brazier. The ideal firewood is approx. 20cm long and split.
The wood should always be dry and seasoned to avoid smoke.
Do not use coated wood, plastics, waste paper or other waste. This could result in toxic smoke and also damage the ceramic.